Find the best consumer-directed health (CDH) programs to fit your employees' needs.
Our offerings are flexible as well are easy-to-use and will help you control costs while still offering attractive, cost-saving benefits to your employees. StreamlineHR believes that the customer must come first and strive to provide best in business service to not only you as an employer, but to your employees as well. Our commitment to ensuring the highest working relationship with our clients leads us to utilizing industry-leading technology and customer service.
Health Reimbursement Arrangements (HRAs) – deductibles, coinsurance, copays
Flexible Spending Accounts (FSAs) – Health, Limited Purpose, and Dependent Care
Health Savings Accounts (HSAs)
Commuter Benefits Plans (Transit and Parking)
Save Time. Save Money. Streamline.
StreamlineHR's solution uses the industry-leading Evolution1® 1Cloud CDH platform, which provides a single end-to-end user experience for administering reimbursement accounts. The user experience removes the complexity from decision making and streamlines health care management for employers and consumers.
Our platform is extremely flexible and:
Is with the foundation for the Benny® Prepaid Benefits Card, StreamlineHR Mobile App, and many enrollment and claims systems that provide efficient, flexible options
Includes real-time integrations to ensure that data remains synchronized between the administration platform and any partner solutions
Saves IT costs with 100% web-based, cloud computing technology
Provides a single hosted platform for managing Health FSA, HSA, HRA, Dependent Care, and Commuter Benefits
Has rules-based benefit plans to ensure support of future regulations or benefit designs
Proven multi-account coordination – StreamlineHR's one-stop solution provides the ability to coordinate Consumer-Directed Health Care plans on a single platform.
Easy online enrollment – Employees can create an HSA account using a convenient, paperless process, with no minimum balance required, along with direct deposit and investment accounts.
Flexible contributions – You can choose the best method for making contributions to employees' accounts using file imports or recurring contribution schedules that you manage in your own web portal. Our solution provides the convenience of processing employee and employer contributions for multiple account types from a single file.
Convenient funds access – Employees can access their funds through online and mobile app distribution requests, online claim filing, or by using the convenient Benny® benefits debit card. Distributions and claim reimbursements can be sent to employees by direct deposit or check. Each employee will get a Card that he or she can use for easy payment of qualified medical expenses at the point of service. Account balances are updated in real time at the point of service.
Employee information at their fingertips – Employees can review their account details, request distributions, and view statements using convenient online portals and mobile apps available 24/7.
Comprehensive reporting – Monthly or custom reports are generated automatically with email alerts directing employees to secure portals for viewing – creating a virtually paperless administration process.
Secure Web Portal for Employer & Employee Access
The trust that our employer and consumer customers place in us by choosing us as their administrator and storing their data on our platform is not something that we will ever take lightly. 1Cloud IT Infrastructure and Application Development teams employ the best available security technology and practices to keep your data safe. Our 1Cloud CHD platform is SSAE 16 SOC 1 Type 2 and Payment Card Industry Data Security Standard (PCI DSS) Level 1 certified as well as HIPAA compliant. The platform has been tested to scale to meet all volume demands.
We offer a secure, 24/7, self-service web portals for employers, and participants. They help you deliver timely, high quality service to your customers, and can be branded with your company name, logo, and customized colors to enhance your corporate image.
The Consumer Portal allows consumers to become fully engaged in their benefit accounts. They may enroll in benefits, view information, store health expense data and receipts, file claims by account, file distribution requests, and manage their profile, view notifications, access forms and link to other helpful resources.
The Employer Portal is a HIPAA-compliant, user-rights based live interface that empowers HR staff with secure, easy-to-use, role-based access to convenient, self-service options including reports, employee data updates, imports, and automatically generated alerts, notifications, and statements.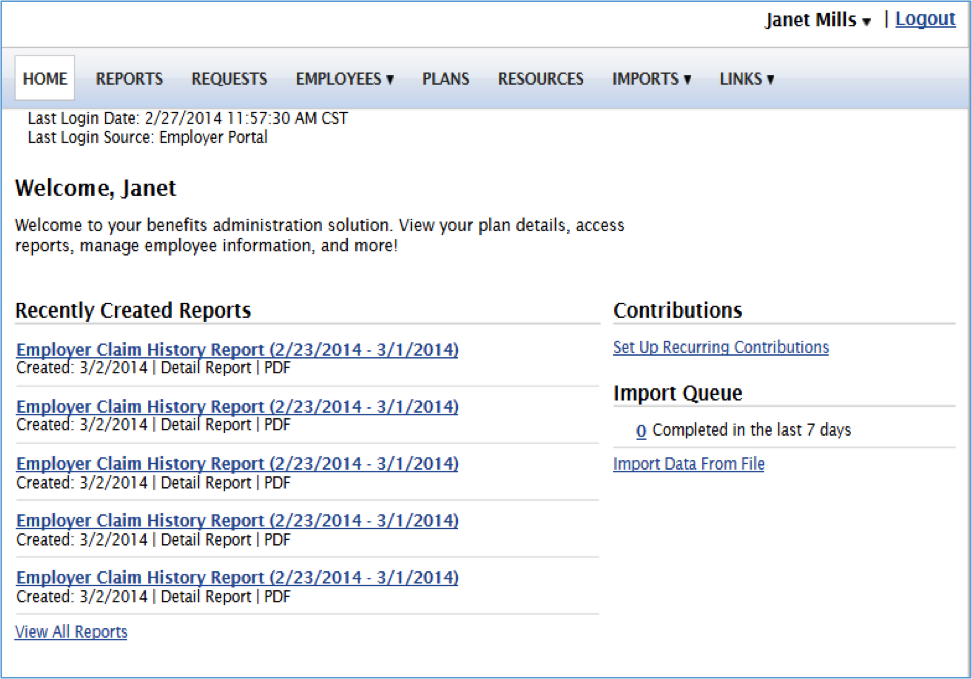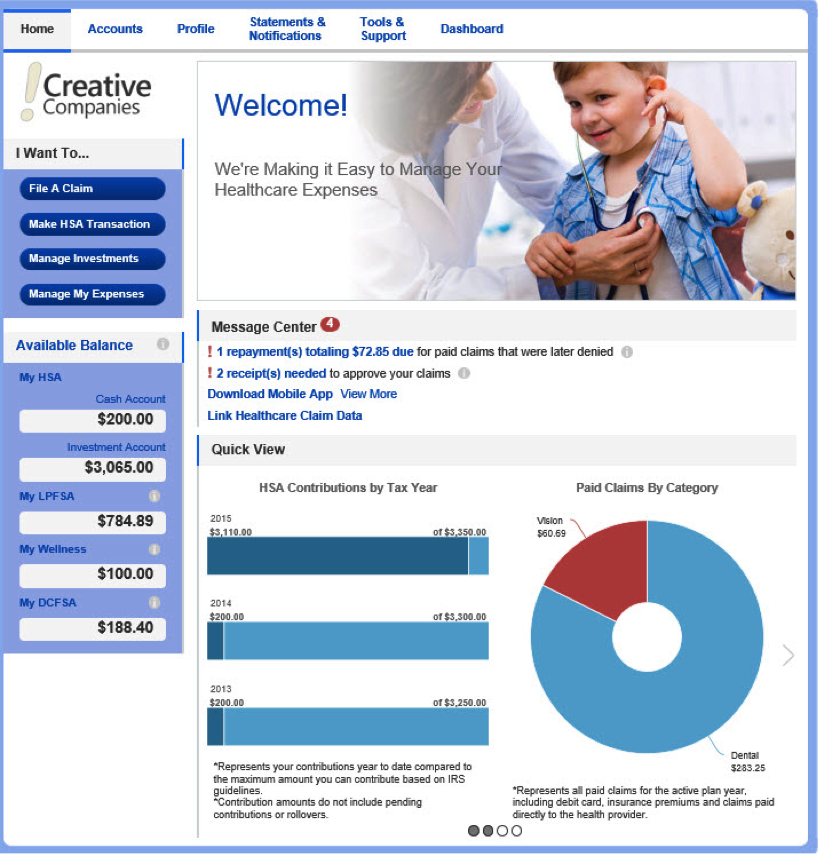 Contact our Spending Accounts Expert